! -- used as a Patreon page by cy-->

introduction | 19th century hoodoo | 20th century hoodoo | 21st century hoodoo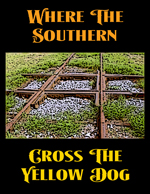 In this installment of "Where the Southern Cross the Yellow Dog," we take a sneak-peek look at an upcoming page that will eventually be on display to the public. As a Patreon supporter, you have access to the page one full year before the public does.
• Patreon Release Date: January 14th, 2022.
• Public Release Date: January 14th, 2023.
Please tell your friends that they can subscribe to my Patreon stream for $2.00 per week:
• "It's All Ephemera with Cat Yronwode"
To discuss this and other Your Wate and Fate pages with me, join my private Patreon Forum here:
• Private Patreon Forum for Where the Southern Cross the Yellow Dog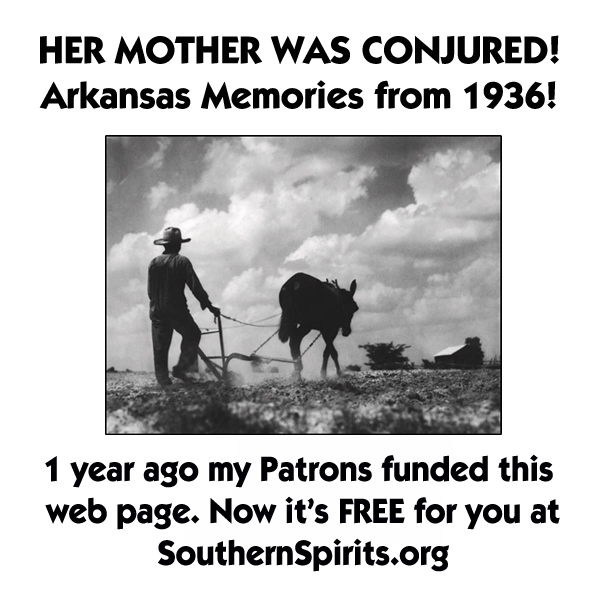 Support Southern Spirits
All of the material you have access to here — the historical information researched and shared from the mind of the woman who is making it all happen — can easily fit into one 8 x 10 foot room in an old Victorian farmhouse, but you would never see it without the investment of the time it takes to produce such a site and the caloric input such a site requires in the form of food for the writer, graphic designer, and database manager, as well as the US currency needed to pay for the computers, software applications, scanners, electricity, and internet connectivity that bring it out of that little room and into the world. So, as you can see, this site is the darling of many, and it is growing at a rapid rate ... but although it is "free," there also is a cost. Your financial support underwrites this cost.
Each new web page or sample pdf is circulated to Patrons as an unpublished galley proof or advance copy. After one year access for Patrons, each web page will be released to the public, while book pages will be available to the public as printed books, and copies will be sent to Patrons who subscribe at the upper two tiers.
Patrons have access to a Private Patreon sub-forum within the Lucky Mojo Forum, and will be accorded special Red Star Avatar badges at the Forum.

ARKANSAS SLAVE NARRATIVE:
HER MOTHER WAS CONJURED
by LULA TAYLOR
Interviewed by Miss Irene Robertson (undated; c. 1936)
This is an extract from "Slave Narratives: A Folk History of Slavery in the United States From Interviews with Former Slaves" prepared by the Federal Writers' Project of the Works Projects Administration, 1936-1938.
I have taken unusual liberties with the order of the paragraphs in this text as it was a series of reminiscences that did not follow chronological order. I have not changed any of the sentences.
The picture is of an African-American man plowing with a mule in the South during the 1930s. It is not Lula Taylor's fatherm Henry Deal, but the type of rig is similar to what he would have used.
Because this interview subject used terms unfamiliar to modern readers, explanatory material appears [in brackets].

LULA TAYLOR
Interviewer: Miss Irene Robertson
Person Interviewed: Lula Taylor, R.F.D., east of town, Brinkley, Arkansas
Age: 71
Date: circa 1936
I was born at Pigeon Roost on Jim High's place (Wattensaw, Arkansas). [Wattensaw, a very small town near the center of the state, is now known as DeValls Bluff, Arkansas. About one-third of the population is African-American.] All my kin folks was field hands. I ploughed all day long.
Lula Taylor was 71 when this interview was recorded in 1936, so she would have been born in 1865, the last year that slavery was legal in the United States, and she would have been freed before her first birthday. She had no personal memories of enslavement, but she did a very good job of recounting the family stories she was taught about life during slavery times in rural Arkansas.
MOTHER AND GRANDMOTHER CHARITY LINNERMAN
My mother [name not recorded] was sold five times. She was sold when she was too little to remember her mother. Her mother was Charity Linnerman. They favored. [They resembled one another.] She was dark and granny was light colored. My mother didn't love her mother like I loved her.
FATHER HENRY DEAL AND GRANDFATHER HENRY POOL
Grandpa [Henry Pool] found a pitcher of gold money been buried in old Master Pool's stable. He give it to them. They knowed it was out there. [The enslavers had perhaps placed the gold there to hide it or to test Henry Pool's honesty in reporting that he found it.]
Papa was sold from the Pools to the Deals [and his surname was changed to Deal].
"My papa [Henry Pool Deal] said he'd hit boards and stood on them all day, one after another, working cold days. [The impression i get from this cryptic statement is that as an enslaved person, Henry was not given adequate footwear, so to avoid standing on frozen or muddy ground he would split boards to stand on.]
THE WHITE CRANE: A DEATH OMEN
Papa said his ole mistress Deal was out under an apple tree peeling apples to dry. A white crane flew over the tree and fluttered about over her. Next day she died. Then the old man [the enslaver, Mr. Deal] married a younger woman.
DURING THE CIVIL WAR
"Grandpa Henry Pool went to war. [It is unclear whether Henry Pool was conscripted into the Confederate Army or escaped to join the Union Army.]
Mother was with [the enslaver] Miss Betty Reed in most of war times. Miss Betty hid their jewelry and money. She spoke of the Yankees coming and kill pretty chickens and drink up a churn of fresh milk turned ready for churning. It be in the chimney corner to keep warm. They'd take fat horses and turn their poor ones in the lot. They never could pass up a fat hog. They cleaned out the corn crib.
Granny [Charity Linnerman]'s head was all split open. I lived to see all that. [She saw the scars on her granmother's head.] White folks said her husband done it, but she said one of her old masters struck her on the head with a shoe last [a heavy metal form, the size of a foot, on which leather shoes are crafted].
THE CONJURER AS AN ENSLAVER
A man (Negro) come by and conjured my mother. She was with Miss Betty Reed (or Reid) up north of Lonoke. They was my mother's last owners. [The town of Lonoke (originally Lone Oak) did not actually come into existence under that name until after the Civil War. It was built on the ruins of Brownsville, a town that was burned to the ground by Union forces after the Confederate Army retreated to Little Rock. At the present time, Lonoke has about 4,000 residents, of whom about about one-quarter are African-American.]
That old man [the conjurer] made out like she stole things, when he stole them his own black self. He'd make her hide out like she stole things. [The story takes a strange turn now as the black conjure doctor and his wife use sorcery to see to it that Lula Taylor's mother is falsely accused of theft, stolen away from the Reed family, and becomes their unwilling slave and servant, Additionally, using conjure, they break up her first love affair and force her to marry a man of their choosing.]
She [Lula Taylor's mother] had a sweetheart, and him and his wife [the conjurer and his wife], she had to live with them. They stole her off from her last owner, Miss Betty Reed. [Not only white people enslaved people of African and Native descent. The number of persons of colour who themselves became enslavers is not known, but they were a small percentage of those who kept slaves. The use of conjure to produce false accusations, create an aura of guilty actions, and ultimately steal a slave away from white enslavers is unusual.]
They [the conjurer and his wife] didn't like her [Lula Taylor's mother's], sweetheart. They was going to marry. He bought all her wedding clothes. When she didn't marry him, she let him have back all the weddin' clothes and he buried his sister in them.
This old man was a conjurer. He give my mother a cup of some kind of herbs and made her drink it. [Conjuration through the use of medically and magically potent herbs was, and is, quite common. In this case, the herbal drink stole Lula Taylor's mother's will-power.] He tole her all her love would go to Henry Deal. He liked him. He [Henry Deal] was my papa. Her love sure did leave her sweetheart and go to my papa. He bought her some nice clothes. She married in the clothes he got her. She was so glad to let go that old man and woman what conjured her 'way from her white folks to wait on them.
WHEN FREEDOM CAME
Master Wade Deal, at freedom, give papa a pair of chickens, goats, sheep, turkeys, a cow; and papa cleared ten acres of ground to pay for his first mule. He bought the mule from Master Wade Deal.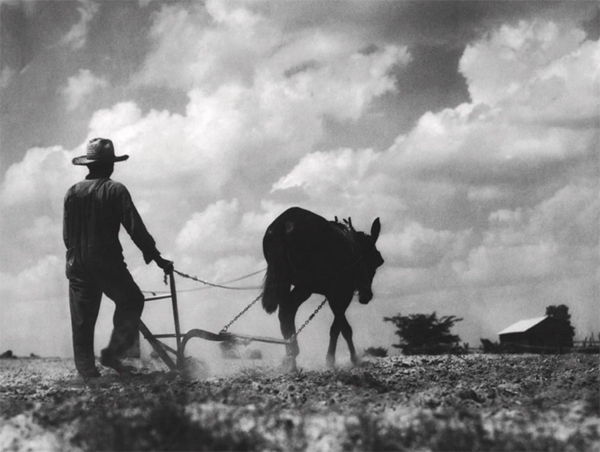 Old Master Deal used to run us from behind him plowing. We tease him, say what he'd say to the horse or mule. He'd lock us up in the smokehouse. We'd eat dried beef and go to sleep. He was a good old man. [This cordial relationship between an ex-enslaver and his former slaves was not entirely uncommon, at least in the pre-WWI era, before the rising influence of segregation, the Ku Klux Klan, and restrictive Jim Crow laws placed hard boundaries between people.]
Granny [Charity Linnerman] lived in a house behind the white church [the church where whte people worshipped] in Helena [Arkansas, on the Eastern border of the state.]. After freedom, we kept writing till we got in tetch with her. We finally got granny with us on the Jefferies place at Clarendon [Arkansas, a small town closer toward the middle of the state; the population is about one-third African-American.].
Grandpa [Henry Pool] played with us. He'd put us all up on a horse we called Old Bill. He said he got so used to sleeping on his blanket on the ground in war times till he couldn't sleep on a bed. He couldn't get off asleep [he couldn't fall asleep on a bed]
THE EXTINCTION OF THE PASSEDGER PIGIONS
It is sad about the pigeons at Pigeon Roost (Wattensaw, Arkansas). They weighted trees down till they actually broke limbs and swayed plenty of them. That was the richest land you ever seen in your life when it was cleared off. Folks couldn't rest for killing pigeons and wasted them all up. I was born at Pigeon Roost on Jim High's place. I seen a whole washpot full of stewed pigeon. It was fine eating. It was a shame to waste up all the pigeons and clear out the place. Passenger Pigeons, Ectopistes migratorius, were at one time the most abundant bird in North America. They were driven to extinction by mass slaughter for their meat and by habitat destruction; the last member of the species died in 1914.]
This material is reprinted from

Slave Narratives:
A Folk History of Slavery in the United States
From Interviews with Former Slaves

Typewritten Records Prepared by
The Federal Writers' Project
1936-1938
Assembled by
Library of Congress Project
Work Projects Administration
For Tthe District of Columbia
Sponsored by the Library of Congress

Illustrated with Photographs

Washington 1941


Volume II

Arkansas Narratives

Part 6

Prepared by
The Federal Writers' Project of
The Works Progress Administration

[My sincere gratitude to my husband nagasiva for help with graphics.]


Search All Lucky Mojo and Affiliated Sites!
You can search our sites for a single word (like archaeoastronomy, hoodoo, conjure, or clitoris), an exact phrase contained within quote marks (like "love spells", "spiritual supplies", "occult shop", "gambling luck", "Lucky Mojo bag", or "guardian angel"), or a name within quote marks (like "Blind Willie McTell", "Black Hawk", "Hoyt's Cologne", or "Frank Stokes"):

Did you like what you read here? Find it useful?
Then please click on the Paypal Secure Server logo and make a small
donation to catherine yronwode for the creation and maintenance of this site.

This website is part of a large domain that is organized into a number of
interlinked web sites, each with its own distinctive theme and look.
You are currently reading
SOUTHERN SPIRITS by cat yronwode .
Here are some other LUCKY MOJO web sites you can visit:

OCCULTISM, MAGIC SPELLS, MYSTICISM, RELIGION, SYMBOLISM
Hoodoo in Theory and Practice by cat yronwode: an introduction to African-American rootwork
Hoodoo Herb and Root Magic by cat yronwode:a materia magica of African-American conjure
Lucky W Amulet Archive by cat yronwode: an online museum of worldwide talismans and charms
Sacred Sex: essays and articles on tantra yoga, neo-tantra, karezza, sex magic, and sex worship
Sacred Landscape: essays and articles on archaeoastronomy and sacred geometry
Freemasonry for Women by cat yronwode: a history of mixed-gender Freemasonic lodges
The Lucky Mojo Esoteric Archive: captured internet text files on occult and spiritual topics
Lucky Mojo Usenet FAQ Archive:FAQs and REFs for occult and magical usenet newsgroups
Aleister Crowley Text Archive: a multitude of texts by an early 20th century occultist
Lucky Mojo Magic Spells Archives: love spells, money spells, luck spells, protection spells, and more
Free Love Spell Archive: love spells, attraction spells, sex magick, romance spells, and lust spells
Free Money Spell Archive: money spells, prosperity spells, and wealth spells for job and business
Free Protection Spell Archive: protection spells against witchcraft, jinxes, hexes, and the evil eye
Free Gambling Luck Spell Archive: lucky gambling spells for the lottery, casinos, and races

POPULAR CULTURE
Hoodoo and Blues Lyrics: transcriptions of blues songs about African-American folk magic
EaRhEaD!'S Syd Barrett Lyrics Site: lyrics by the founder of the Pink Floyd Sound
The Lesser Book of the Vishanti: Dr. Strange Comics as a magical system, by cat yronwode
The Spirit Checklist: a 1940s newspaper comic book by Will Eisner, indexed by cat yronwode
Fit to Print: collected weekly columns about comics and pop culture by cat yronwode
Eclipse Comics Index: a list of all Eclipse comics, albums, and trading cards

EDUCATION AND OUTREACH
Hoodoo Rootwork Correspondence Course with cat yronwode: 52 weekly lessons in book form
Hoodoo Conjure Training Workshops: hands-on rootwork classes, lectures, and seminars
Apprentice with catherine yronwode: personal 3-week training for qualified HRCC graduates
Lucky Mojo Community Forum: an online message board for our occult spiritual shop customers
Lucky Mojo Hoodoo Rootwork Hour Radio Show: learn free magic spells via podcast download
Lucky Mojo Videos: see video tours of the Lucky Mojo shop and get a glimpse of the spirit train
Lucky Mojo Publishing: practical spell books on world-wide folk magic and divination
Lucky Mojo Newsletter Archive: subscribe and receive discount coupons and free magick spells
LMC Radio Network: magical news, information, education, and entertainment for all!
Follow Us on Facebook: get company news and product updates as a Lucky Mojo Facebook Fan

ONLINE SHOPPING
The Lucky Mojo Curio Co.: spiritual supplies for hoodoo, magick, witchcraft, and conjure
Herb Magic: complete line of Lucky Mojo Herbs, Minerals, and Zoological Curios, with sample spells
Mystic Tea Room Gift Shop: antique, vintage, and contemporary fortune telling tea cups

PERSONAL SITES
catherine yronwode: the eclectic and eccentric author of many of the above web pages
nagasiva yronwode: nigris (333), nocTifer, lorax666, boboroshi, Troll Towelhead, !
Garden of Joy Blues: former 80 acre hippie commune near Birch Tree in the Missouri Ozarks
Liselotte Erlanger Glozer: illustrated articles on collectible vintage postcards
Jackie Payne: Shades of Blues: a San Francisco Bay Area blues singer

ADMINISTRATIVE
Lucky Mojo Site Map: the home page for the whole Lucky Mojo electron-pile
All the Pages: descriptive named links to about 1,000 top-level Lucky Mojo web pages
How to Contact Us: we welcome feedback and suggestions regarding maintenance of this site
Make a Donation: please send us a small Paypal donation to keep us in bandwidth and macs!

OTHER SITES OF INTEREST
Arcane Archive: thousands of archived Usenet posts on religion, magic, spell-casting, mysticism, and spirituality
Association of Independent Readers and Rootworkers: psychic reading, conjure, and hoodoo root doctor services
Candles and Curios: essays and articles on traditional African American conjure and folk magic, plus shopping
Crystal Silence League: a non-denominational site; post your prayers; pray for others; let others pray for you
Gospel of Satan: the story of Jesus and the angels, from the perspective of the God of this World
Hoodoo Psychics: connect online or call 1-888-4-HOODOO for instant readings now from a member of AIRR
Missionary Independent Spiritual Church: spirit-led, inter-faith; prayer-light services; Smallest Church in the World
Mystic Tea Room: tea leaf reading, teacup divination, and a museum of antique fortune telling cups
Satan Service: an archive presenting the theory, practice, and history of Satanism and Satanists
Southern Spirits: 19th and 20th century accounts of hoodoo, including ex-slave narratives & interviews
Spiritual Spells: lessons in folk magic and spell casting from an eclectic Wiccan perspective, plus shopping
Yronwode Home: personal pages of catherine yronwode and nagasiva yronwode, magical archivists
Yronwode Institution: the Yronwode Institution for the Preservation and Popularization of Indigenous Ethnomagicology