Dr. E. P. Read
Jump to navigation
Jump to search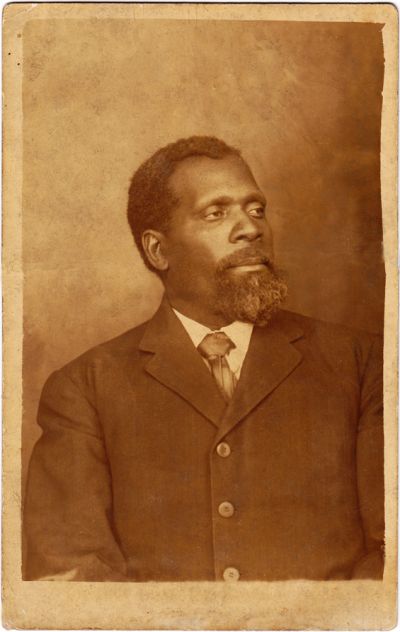 Dr. E. P. Read, also known as E. Parker Read, PhD or Edward Parker Read (1868 - 1944), was a renowned conjure doctor, astrologer, herbalist, shop-keeper, author, judge, political activist, and businessman whose practice flourished from 1890 until his death.
Pioneering Black Pharmacist
Read's public career began in Lawnside, New Jersey, a town founded by abolitionists for free persons of colour and escaped slaves to live in peace. In the optimistic aftermath of the Civil War and Emancipation, he became a judge in the 2nd District Small Cause Court and a notary public in Center Township, Camden County, New Jersey. He was a colleague of the great African-American social philosopher W. E. B. Du Bois, and was influenced by him to take up the cause of civil rights activism.
Within a few years he had become a prosperous land-developer and entrepreneur who owned The Eureka Building in Lawnside, New Jersey, a four-story block of buildings with a real estate office, a garage, and a store at sidewalk level, plus 50 hotel-style apartments for rent above, outfitted with electric lights, steam heat, baths, and a shared sun parlour for guests. Throughout his life, and in many subsequent ventures, the word "Eureka" -- Greek for "I found it!" -- was favoured by him in the names of corporations he created and the titles of products he sold.
In the 1915 edition of "Who's Who in the Colored Race" it was said that Read had received an M.D. from Baltimore University in 1889 and a degree of Doctor of Refraction at Philadelphia Optical College in 1899. He set to work immediately upon earning his initial degree, for in 1889, at the age of 21, Read had became the first person of colour to own and operate a drugstore; this was in Petersburg, Virginia.

In Lawnside, New Jersey, Read met and married Alphonsenia "Allie" Smith (September 8th, 1880 - January 5th, 1965), the daughter of Charles Smith and Josephine Poole Smith. Allie was one of five children, and throughout her life she remained particularly close to her sister, Lillian Smith Sheldon. The Smith family ran the Lawnside Sanitarium, which today might be thought of as a skilled nursing facility for a variety of patients in need of supervised rehabilitation, chronic care, or hospice. Dr. Read and his wife retained her family interest in social and medical work, for Read's early business card shows him to be the president of the Cosmopolitan Industrial Educational Institute to help train a rising generation of urban Black youths to take on significant roles in American society, the Eureka Sanatorium Sanatation Association, and the rather wordily titled United Business Incorporating Associated Companies and Societies Mutual Protective League. All of these groups were "Organized and Incorporated to Assist Colored People."

In 1890, at the age of 22, he became the first Black businessman to open a drug store across the river from Lawnside, in Philadelphia, Pennsylvania. This was the Eureka Drug Store at 1715 South Street. This event was reported in an obituary of Read "The Crisis," in May 1944, on page 149: "Often called 'the dean of Philadelphia businessmen,' Dr. E. Parker Read of 1440 South Street [his most recent address] was the first Negro to open a drug store in the city, fifty-four years ago" -- that is, in 1890.
By 1894, at the age of 26, he was manufacturing and selling herbal remedies by mail order via ads in Black-owned newspapers. It should be noted that at this time, most drug stores sold herbal remedies, and they were considered up-to-date and expedient. As a manufacturing chemist, Read's early line of products included Japanese Hair Vigor, said to increase hair length by 2 inches in one month, Magic Hair Straightener, to make "Kinky and Curly Hair Soft, Elastic, and straight," Magic Hair Stain, to make "Gray and Red Hair Black," Magic Hair Remover, to get rid of unwanted hair, and Magic Flesh Bleacher, to remove "Spots and Freckles" and make "the Flesh one-third lighter."

By 1897, when he was 29, he also sold Quick Relief Female Pills, ostensibly for the palliation of menstrual cramps, but most likely an abortifacient containing Black Cohosh.

A similar ad to the one above ran in the Philadelphia Inquirer or April 18, 1897 on page 12, and offered "Quick Relief Female Pills. 2 Boxes, $1.00. Relief in 2 Days. Dr. E. P. Read's, 1009 South St. at 18th St."
Dr. Read's best selling herbal medicine was the Divinum Herb-Mineral Remedium, a combination of 37 potent herbs and minerals selected to treat a variety of common medical complaints. As newspaper articles and promotional materials show, he used a pharmacist's balance-beam scale with brass pans to weigh out the herbs. His formulas, some of them preserved among his papers, are hand-written with 19th century apothecary abbreviations, and reflected his educational background and precision.
Political and Social Activist
In 1910, as well as 1920 and 1930, the Federal census-takers found Dr. Read and his family as residentts of Philadelphia, not Lawnside. In 1913, when he was 45 years old, Read published Watchman: The Light of Civilization, The Leverage of Wealth, a political pamphlet "Dedicated to the 50th Anniversary of Negro Freedom in America." In this work, he outlined what he saw as the three roads to Black social equality in a racist society.
First, he considered "passive obedience" to the law, which he deemed unacceptable "because yielding to injustice sets a precedent for wrong."
Next, he took up the proposition of "resistance to civil authority by armed individuals," which he deemed "uncertain," because it is founded on "vainglory and ambition" and "it dissolves the social tie and destroys what it has taken many years to accomplish."
Finally, he proposed "suffering in the cause of right," a personal commitment to social progress that might include individual martyrdom, in which "we act as we believe to be right, in the defiance of oppression ... appealing to the reason and conscience ... of society." This third choice, identical to the non-violent methods of the later Civil Rights Movement, became the guiding light under which he lived.
Around the same time that he made his declaration of principles, Read began work on "The National Afro-American Encyclopedia," a detailed and continually updated publication that compiled the names and addresses of all Black court clerks, pastors, and school superintendents in America, plus the locations and dates of incorporation of all Black churches, businesses, hotels, fraternal organizations, schools, colleges, and professional organizations in the country. The dual purposes of this book were to celebrate Black pride and progress, and to provide a way for Black motorists to move from town to town and find safe places to stay, gain employment, and do business in a time of oppressive racial prejudice and segregation.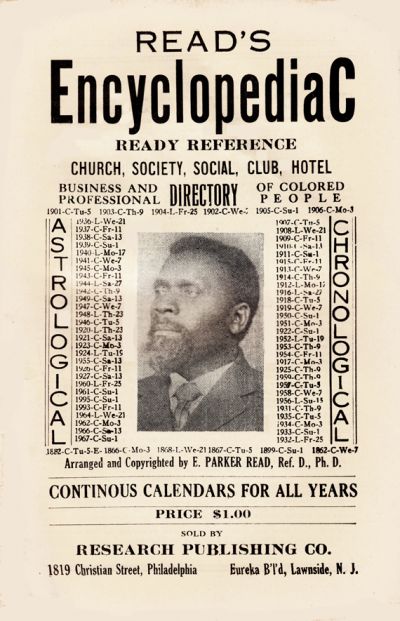 Among his first publications was "Read's Encyclopediac Ready Reference Church, Society, Social, Club, Hotel Business and Professional Directory of Colored People", an "Astrological" and "Chronological" "Continuous Calendar for All Years." The earliest edition is dated to 1914, and the booklet remained in print for decades. In fact, when Read died, there were still years to go on the "Continuous Calendar" he had devised. In addition to functioning as an almanac, the "Encyclopediac Ready Reference" also hosted advertisements for Black-owned businesses, including a Spiritualist Medium, and it carried his educational, political, and polemic articles on how Black people could succeed in racist America. Read printed and published this early effort under the company name of Research Publishing Co., which was located at the Eureka Building in Lawnside, New Jersey and at his home address of 1819 Christian Street in Philadelphia, where his wife, Allie Smith Read, and her sister Lillian Smith also operated an orphan's home, called the Eureka Baby-Saving Station.

According to "The Pennsylvania Medical Journal," Volume 24, December 1920, page 198, on October 13th, 1920, E. Parker Read was found guilty of practicing medicine without a license, and was sentenced to 6 months in jail; his case was on appeal. "The Pennsylvania Medical Journal," Volume 24, for June 1921, on pages 666 - 667, ran a follow-up to this story, stating that on appeal, Read's conviction was affirmed for practicing medicine without a license "at four different locations on South Street in Philadelphia" "for the past 30 years" (that is, since 1891). He was 52 years old when arrested, and when his appeal was denied he was 53, and he probably did serve time in jail. Such arrests and sentences were not uncommonly leveled against herb doctors, both Black and White, at that time. In fact, simply to recommend an old tried-and-true herb tea could be construed as "practicing medicine without a license" by the powerful forces that were behind the industrialization of medicine and the deprecation of herbal remedies.
By the early 1920s, as noted by those who sought to put him out of business, Dr. Read had extended his property ownership to include several buildings on South Street and Lombard Street in Philadelphia, Pennsylvania, across the state line and about six miles from Lawnside, New Jersey. Undaunted by the troubles that had been visited upon him, he wrote lyrics for a "Universal Peace Anthem" and sold the sheet music for 25 cents. He started his own print shop, where he ran off copies of his advertisements, postcards, catalogues, music, and magazines.

Around 1926, at the age of 58, Read invested in the Eureka Sanatorium Sanitation Association and acquired the six acre parcel known as Virginia Medical Mineral Springs, near Farmersville, in Prince Edward County, Virginia, not far from where he had previously worked as a pharmacist. In 1939, when he was 71, he added another 2 acres to his holdings there. The area had previously been home to the Farmersville Lithia Springs bottling company, which sold bottled mineral water locally and regionally. Read, a clever chemist, like the owners of the Crazy Water Springs in Mineral Wells, Texas, decided that shipping bottled mineral water around the country was not economical. Thus, like the Crazy Water Co., he went into the business of selling dehydrated mineral water. Buyers simply added their own non-mineral water to the crystalized minerals and they had a refreshing mineral tonic. He sold Virginia Mineral Springs water in both powder and tablet form, and among his papers were several reports that he commissioned from chemists whom he hired to analyze the exact composition of the minerals in his springs so that he could make up the powders from scratch ingredients if he did not wish to dehydrate it at the source.
Medical Herbalist, Reader, and Conjure Doctor
In Philadelphia Read came to true national prominence as an herbalist, conjure doctor, and astrologer. He bought out the T. B. Donaldson Medicine Co., the East Indian Remedy Company, the Irving Remedy Co., and the Powhatan Indian Herb Manufacturing Company and continued their product lines uninterrupted.

After his early successes, Read expanded into property ownership, buying and operating store fronts on South Street and Lombard Street in Philadelphia. He was a member of the National Association for the Advancement of Colored People (N.A.A.C.P.) and president of the United Advance Beneficial Fraternal Order of Ethiopians, a combination fraternal lodge and group insurance plan. He also created the Eureka Beneficial Trust, a corporation that granted stock-holders the right to distribute herbal remedies manufactured by the East Indian Remedy Co., T. B. Donaldson Medicine Manufacturing Co., Powhatan Indian Herb Manufacturing Co., Irving Remedy Co., the Read and Christiana Manufacturing Co., and The Eureka Co.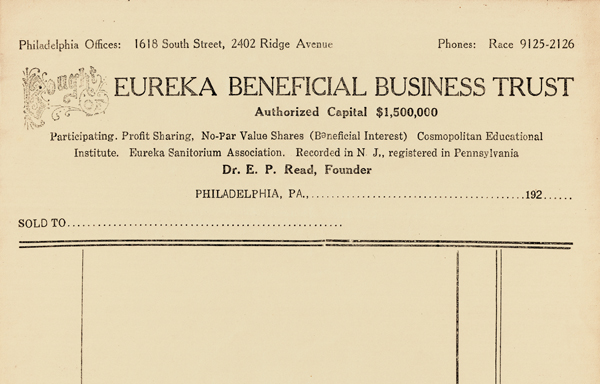 All of Read's diverse herbal remedy companies were eventually incorporated under the Nature's Laboratory name, with offices in Philadelphia and at 111 West 135th Street, half a block west of Lenox Avenue in the Harlem section of New York City. In the late 1920s he acquired the formulas of Dr. J. C. Delano, an elderly man of partial Native American descent, and continued to operate the former owner's business, melding it with his own African-American style Herbs of Life brand. Delano, who was said to have retired at the age of 100 and to have still been alive at 103 when Read first published a catalogue of the his remedies, can be estimated to have been born in the late 1820s, and thus contributed a great many traditional formulas to Read's repertoire. The cover of this catalogue calls on the herb catalogue trope of Native people standing beside tipis as they bring natural herb remedies to non-Natives, but the image also mocks the trope, because the Natives not only pick the herbs, they also boil them up, bottle them, and pack the bottles in cases, alongside burlap bags of bulk dried herbs, for their patient horse to haul into town for sale.

Dr. Read personally prepared horoscopes for clients and gave palm readings, and, as a conjure doctor, he manufactured old-school spiritual supplies such as Hin-Doo Devil Chaser Incense. Here we see this incense used to advertise "3 great Readers Advisors and Doers" who provided a "Prosperity Horoscope 'Life Guide' Charm Thot Chart for Success" and "Mystic Palm Reading" at his 4422 Lombard Street shop.

Dr. Read's clients were located throughout the United Sates, and he kept their letters to him, answering their deepest personal questions through spiritual and astrological readings and by prescribing roots and herbs for both medical and magical conditions. His full line of more than 1,000 botanical remedies included everything from Peppermint to John the Conqueror roots, and, of course, mineral salt tablets obtained by evaporating the waters of the Virginia Medical Mineral Springs, "Your Drink To Health."

At his Indian Drug Store, Read sold numerological dream books for lucky number gambling and betting on Policy, the illegal African-American lottery system of its time. In particular, he carried the lottery books of Herbert Gladstone Parris, also known as Professor Konje, a Black publisher whose "H.P. Dream Book" and other titles carried a special announcement "To the Oppressed People of the World," urging them to acquire an education as well as using Policy as a way to make money and encouraging them to rise up as a culture and a race.

Read kept meticulous files of all the vendors with whom he did business, so we know that he carried conjure spell-books, such as "Legends of Incense, Herb, and Oil Magic" by the pseudonymous Jewish author Lewis de Claremont, and that he stocked de Claremont's line of Oracle Products conjure oils in his shop as well. One of his sources for raw botanicals was Penn Herb, a large Pennsylvania-based importer and packager of bulk herbs and roots that is still in existence, and among his papers are annotated catalogues in the margins of which he worked out his formulas for herbal mixtures as an apothecary does, by gram weight.

When Dr. Read died of pneumonia in 1944, at the age of 76, he left an amazing legacy of spiritual, magical, and political practices that have been an inspiration to those who have followed in his footsteps. In 1948 his widow, Allie Smith Read, acting as administrator of his estate, disposed of the properties that had once been known as the Virginia Medical Mineral Springs.
There is Much More to Come
In my collection are hundreds of items from the archives of Dr. Edward Parker Read, including product labels, business letterheads, stock certificates, sample publications, catalogues, newspaper articles, and personal memorabilia, as well as several binders filled with correspondence from clients, asking him to prescribe for both their medical and magical needs. This web page is just the tip of a very large iceberg, and it is my goal to eventually digitize the entire collection. For now, the images placed online are conveniently small in size, but the full-sized scans reside in my hard drive, awaiting academic interest and research. My devoted thanks are herewith tendered to my husband, nagasiva yronwode, for the scans.
To Discuss This Patreon Page
Duplicate labels and flyers from my Dr. E. P. Read collection are being distributed to my Patreon supporters at the Tier 5 and 6 levels. In some cases, these are only the second or third copies known to exist of these extremely rare pieces of ephemera, which came from Dr. Read's own print shop files. It is my hope that those who receive them recognize their rarity and singular worth to the history of African-American history. There are more E.P. Read artifacts to be distributed, so stay tuned.
This Patreon Bonus Page is part of the series titled "Where the Southern Cross the Yellow Dog." To discuss it with me and the Patron community, please visit our Private Patreon Forum at
http://forum.luckymojo.com/where-the-southern-cross-the-yellow-dog-t94019.html
Thank you.